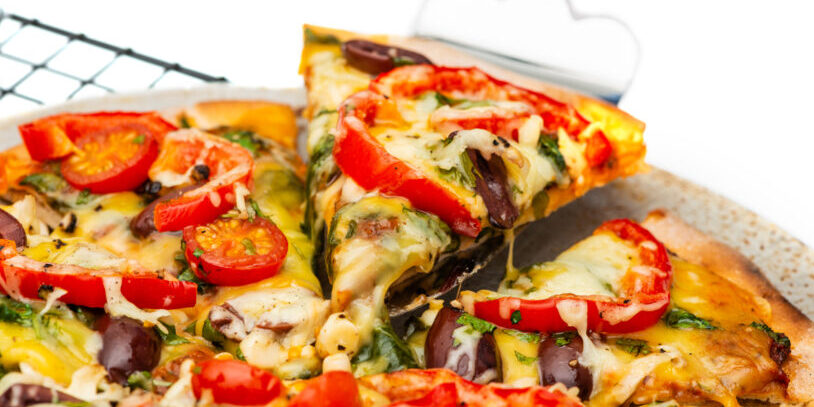 Nutrition per serve
Kcal:
317
Fat:
15g
Saturates:
1g
Protein:
10g
Carbs:
35g
Sugars:
7g
Fibre:
6g
Salt:
2g
Iron:
2mg
Calcium:
232mg
Prep time: 30 mins, Cook time: 10 mins, Total time: 40 mins
INGREDIENTS, (SERVES 3)
1 Low FODMAP Gluten free pizza base
Half a jar of Slightly Different Foods Bolognese sauce
60g vegan cheese slices cut into circles, (check no onion or garlic)
40g vegan cheese, grated, (check no onion or garlic)
10 Green or/and black olives, halved
50g Spinach
5 Cherry tomatoes, halved
15g Oyster mushrooms, cut in small cubes
1/2 Red bell pepper, sliced
15g Jalapeno pepper (optional)
15g Fresh coriander, chopped
METHOD
Soak the spinach in boiling water until it has softened then drain and leave to one side.
Soak the sliced mixed peppers in boiling water until tender, drain and leave to one side.
Spread Slightly Different Foods Bolognese sauce evenly over the top of the pizza base.
Spread the drained spinach, cheese slices, half of the coriander, olives, mushrooms, cherry tomatoes over the pizza base.
Scatter the remaining coriander, bell pepper, jalapenos and cheddar cheese over the top.
Season with cracked black pepper.
Bake in the over until browned and piping hot.
This recipe has been reviewed and approved by Everyday Nutrition Founder and Accredited Practising Dietitian, Joanna Baker.