Tilapia Red Curry with Vermicelli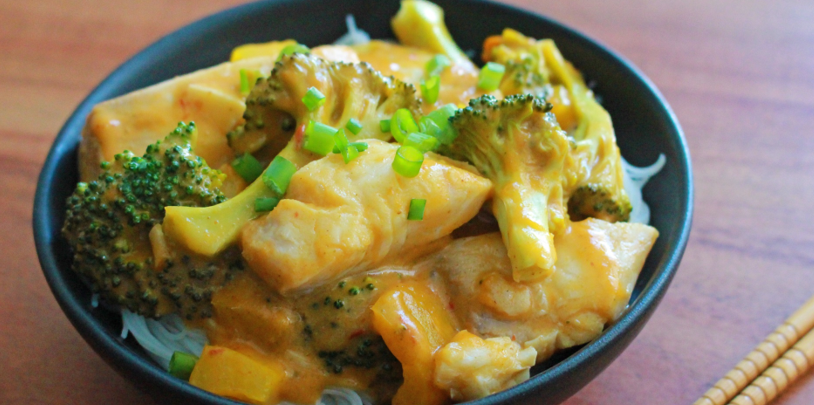 INGREDIENTS
1/2 teaspoon garlic infused oil or olive oil
1 cup (120 g) bell pepper, chopped
1 cup (80 g) broccoli, chopped
1/4 cup (20 g) green onion leaves, chopped
1 jar red curry sauce
1/2 lb tilapia, fresh or defrosted
200 g vermicelli noodles
METHOD
Pour oil into a frying pan on medium heat.
Stir fry the peppers, broccoli, and green onion leaves for 3-4 minutes. Pour in red curry sauce.
Slice tilapia into pieces approximately 3 cm wide. If your filet is not an even thickness, divide pieces into two groups of thinner and thicker.
When curry sauce is hot, add the thicker tilapia pieces. Cook for 2 minutes. Add thinner pieces and cook 1 minute longer. Flip all tilapia pieces and cook for 2-3 more minutes until the tilapia is opaque and flakes easily.
Cook vermicelli noodles according to directions on its package. Serve the curry on top of the noodles
A Low FODMAP recipe written & approved By Lauren Renlund MPH Registered Dietitian.