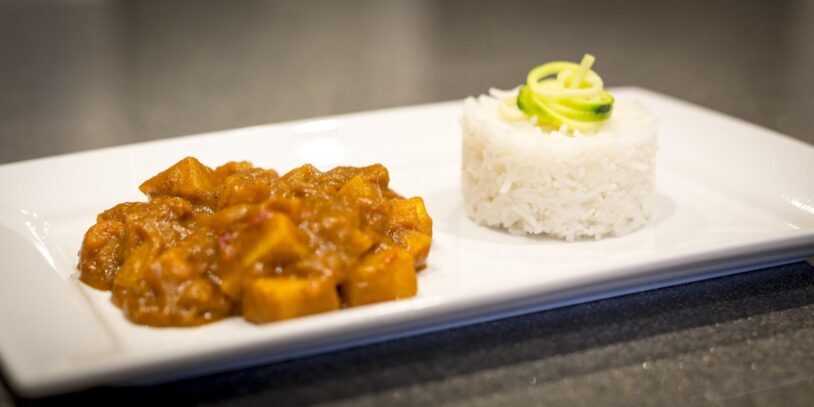 Nutrition per serve
Kcal:
496
Fat:
17g
Saturates:
3g
Protein:
28g
Carbs:
55g
Sugars:
3g
Fibre:
2g
Salt:
0
Iron:
2mg
Calcium:
13mg
Prep time: 5 mins, Cook time: 20 mins, Total time: 25 mins
INGREDIENTS (SERVES 2)
1 Tbsp Garlic infused oil
250g Chopped chicken breast
1 Jar Slightly Different Foods Tikka Masala Sauce
150g Basmati rice
METHOD
Rinse rice in cold water.
Bring a pan of water to the boil and add rice.
Simmer for 15 minutes or until tender.
Whilst the rice is cooking, heat the oil in a large frying pan.
Add chicken & cook for 8 minutes or until browned.
Add Tikka Masala sauce and simmer for 5 minutes.
Drain rice and serve with the cooked Chicken Tikka.
This recipe has been reviewed and approved by Everyday Nutrition Founder and Accredited Practising Dietitian, Joanna Baker.