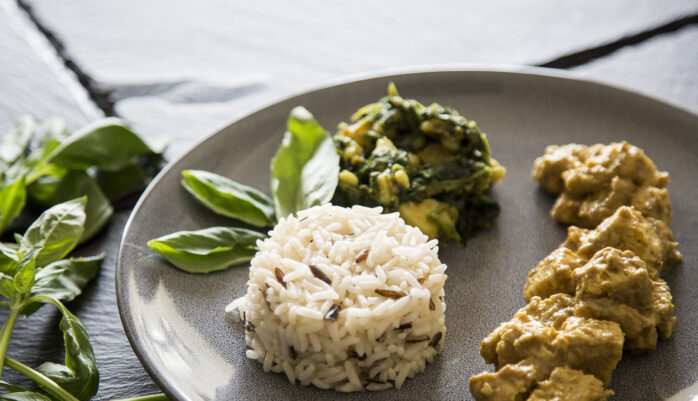 Nutrition per serve
Kcal:
296
Fat:
16g
Saturates:
2g
Protein:
6g
Carbs:
29g
Sugars:
2g
Fibre:
5g
Salt:
0
Iron:
3mg
Calcium:
159mg
Prep time: 20 mins, Cook time: 20-25 mins, Total time: 45mins
INGREDIENTS, (SERVES 6)
2 tablespoon garlic infused olive oil
1g asafoetida
8g of korma or garam masala curry powder, (check ingredients as some have garlic or onion powder added)
6g small thumb sized piece of ginger, peeled and grated
300g of potatoes peeled and cut into cubes
A pinch of salt and pepper
100ml water
150g frozen spinach
Addition: 1g mild chilli powder, (check onion or garlic)
METHOD
Peel, chop and boil the potatoes for ten minutes or until tender
Heat 1 tbsp of oil in a medium pan and add the asafoetida followed by the curry powder and ginger and stir until mixed
Add the cubes of potato and a pinch of salt and pepper and fry for a few minutes
Add the water, and simmer until the potatoes are soft, (add extra water if starting to stick to the bottom of pan or if the potatoes are not soft enough).
Add the spinach to the pan, mix and simmer for a few minutes
Place the sag aloo into a dish
Drizzle 1tbsp garlic infused oil over the top and mix to finish.
This recipe has been reviewed and approved by Everyday Nutrition Founder and Accredited Practising Dietitian, Joanna Baker.