Fakeaway Slow Cooked BBQ Pork Ribs with Chunky Wedges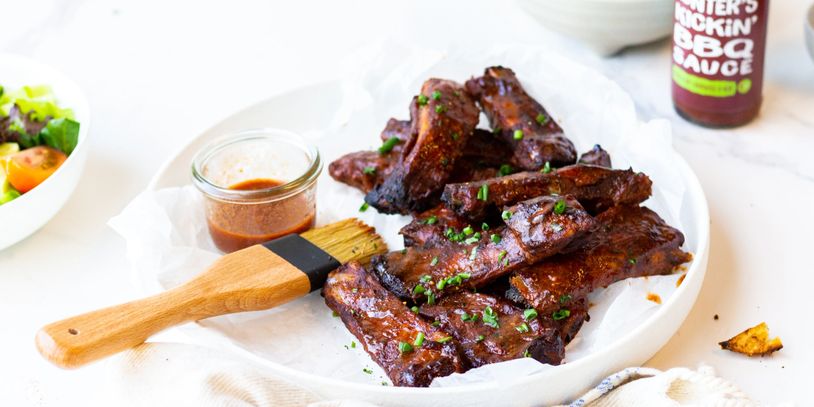 Nutrition per serve
| | | | | | | | | | |
| --- | --- | --- | --- | --- | --- | --- | --- | --- | --- |
| Kcal: 710 | Fat: 37g | Saturates: 13g | Protein: 42g | Carbs: 49g | Sugars: 18g | Fibre: 6g | Salt: 2g | Iron: 4mg | Calcium: 190mg |
Prep time: 20 minutes, Cook time: 4 – 8 hours
INGREDIENTS, (SERVES: 4)
BBQ PORK RIBS
1kg pork ribs
2 tbsp brown sugar
1.5 tsp smoked paprika
1/2 tsp cumin
1/2 tsp salt
1 tbsp garlic infused oil.
120g (8 tablespoons) Slightly Different Hunter's Kicking BBQ Sauce
60ml (4 tablespoons) water
SERVING GLAZE
2 tbsp Slightly Different Hunter's Kicking BBQ Sauce
2 tbsp pan juices
POTATO WEDGES
700g potato
2 tbsp oil
2 tsp dried oregano
1 tsp sweet paprika
1/2 tsp salt
1/4 tsp black pepper
50g grated cheddar or vegan cheese
GREEN SALAD
4 large handfuls salad greens
1 small cucumber, peeled & sliced
3 tomatoes, cut into wedges
METHOD
Remove the membrane from the pork ribs if needed and slice into individual ribs.
Pat the ribs dry using a paper towel. In a small bowl mix together the brown sugar, smoked paprika, cumin, and salt. Place the ribs in a large bowl and sprinkle over the spice mix. Gently move the ribs around the bowl until they are evenly coated. Then pour over the Slightly Different Hunter's Kicking BBQ Sauce and the garlic infused oil. Mix the pork ribs until they are well coated.
Transfer the ribs to the bowl of a slow cooker. Pour the water down the edge of the bowl (don't pour it straight over the ribs as you'll wash the flavouring off).
Cook the ribs on high for 3 – 4 hours or on low for 7 – 8 hours.
1 hour before the ribs are ready, make the potato wedges. Preheat the oven to 220ºC (430ºF) bake function and line a roasting tray with baking paper. Cut the potato into chunky wedges. Pat dry with paper towels. Place in a large bowl and drizzle in olive oil. Then sprinkle over the oregano, salt, paprika and black pepper. Toss the wedges until they are evenly coated.
Transfer the wedges to the lined roasting tray. Spread them out so there is a little bit of space between each wedge. Bake in the oven for 30 minutes, then turn and sprinkle with cheese. If the wedges feel a little dry you can add another drizzle of olive oil. Continue baking for another 20 to 25 minutes until golden and crispy.
Make the salad. Rinse the salad greens, peel and slice the cucumber, cut the tomatoes into wedges.
Remove the pork ribs from the slow cooker and place in a roasting pan. Mix 2 tablespoons of Slightly Different Hunter's Kicking BBQ Sauce with 2 tablespoons of the juices in the slow cooker. Brush or spoon the glaze over the ribs. Pop under the oven grill for about 2 minutes each side until the ribs are slightly caramelised.
Serve the saucy ribs with chunky wedges and the side salad. Enjoy!
A Low FODMAP recipe reviewed & approved By 'A little Bit Yummy's' dietitian team.