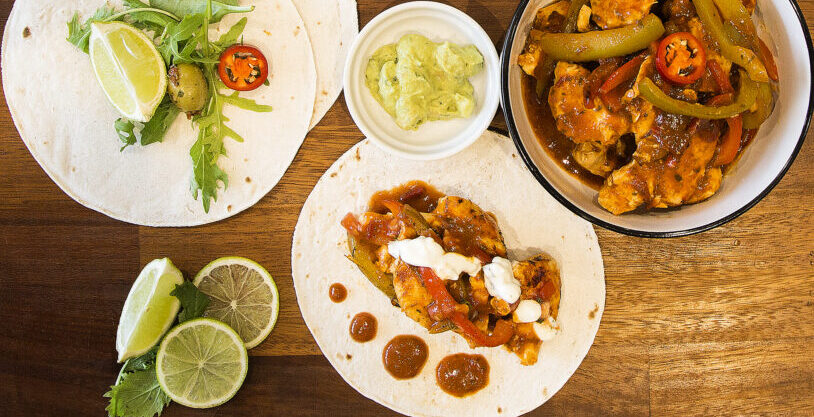 Nutrition per serve
Kcal:
335
Fat:
6g
Saturates:
1g
Protein:
28g
Carbs:
41g
Sugars:
5g
Fibre:
6g
Salt:
0
Iron:
2mg
Calcium:
31mg
Prep time: 10 mins, Cook time: 30 mins, Total time: 40 mins
INGREDIENTS, (SERVES 4)
500g Sliced chicken breast
260g, (1 jar) SDF Mexican Fajita Sauce
50g Green bell pepper sliced
50g Red bell pepper sliced
8 Low FODMAP rice tortillas wraps
1 Red chilli
1/2 Lime
Black pepper to garnish
METHOD
Pre-heat oven 180 degrees F
Slice the chicken and peppers. Place evenly in an oven proof dish
Addition to add extra heat: Slice in half the red chilli and de-seed.
Place on top of the chicken
Slice the lime and squeeze half of the juice over the chicken.
Place the other half on the chicken
Drizzle garlic infused oil over the chicken.
Cover dish loosely with foil
Place in the oven for 15 minutes
Remove dish from the oven and discard the foil toss the chicken and peppers.
Pour the Fajita sauce evenly over the chicken and garnish with black pepper
Place back in the oven for a further 15 minutes
Remove dish from the oven
Remove the lime and chopped chilli from the dish
Serve with Gluten Free tortillas and salad,
Additional: Homemade Low FODMAP Guacamole and sour cream dip
This recipe has been reviewed and approved by Everyday Nutrition Founder and Accredited Practising Dietitian, Joanna Baker.