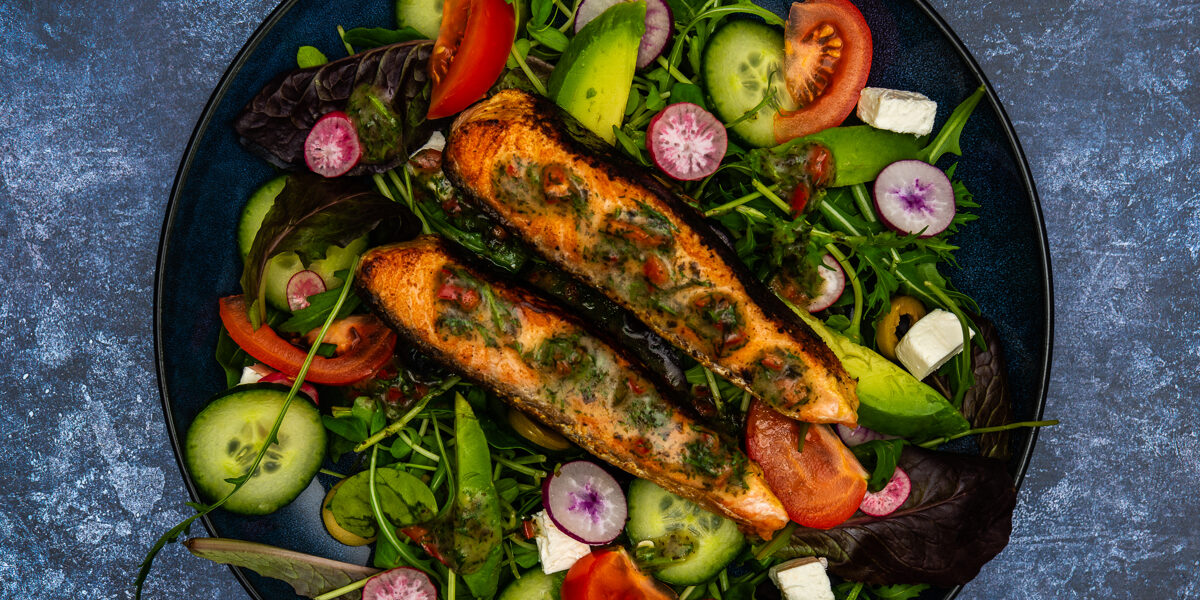 Nutrition per serve
| | | | | | | | | | |
| --- | --- | --- | --- | --- | --- | --- | --- | --- | --- |
| Kcal: 329 | Fat: 25g | Saturates: 5g | Protein: 19g | Carbs: 5g | Sugars: 4g | Fibre: 3g | Salt: 2g | Iron: 0 | Calcium: 10mg |
Prep time: 30 mins, Cook time: 6mins, Total time: Less than 40mins
INGREDIENTS, (SERVES 5)
1 Tbsp garlic infused oil
4 X Salmon, (320g)
23g Dijon mustard
TO GARNISH
Cracked black pepper
Salt
INGREDIENTS FOR THE SALAD
1 small cucumber sliced, (150g)
2 cups lettuce, (150g)
60g avocado
60g Chopped spring onion green tops
45g Sliced black Olives
75g Sliced green Olives
180g Roughly chopped tomatoes, (2 large tomatoes)
150g Sliced Radishes
80g Feta cheese
MARINADE
18g (1 Large) Red chilli
8g Chopped fresh dill
80g Slightly Different Coriander & Lime dressing
METHOD
Mix the Slightly Different Coriander & Lime dressing with chopped red chilli and dill
Chop all the salad ingredients and place in a large salad bowl and mix
Coat the salmon with Dijon mustard, cracked black pepper & salt
Heat 1 tbsp of oil in a frying pan and add the salmon. Cook both sides for three minutes using a spatula to turn the salmon over, (cook for slightly longer if you prefer the salmon crunchy)
Once cooked drizzle a small amount of the dressing mix over the salmon leaving enough dressing to mix in the salad.
Drizzle part of the remaining dressing over the salad and mix
Slice the salmon and arrange over salad. Drizzle with the remaining dressing.
Serve with lemon wedges.
This recipe has been reviewed and approved by Everyday Nutrition Founder and Accredited Practising Dietitian, Joanna Baker.