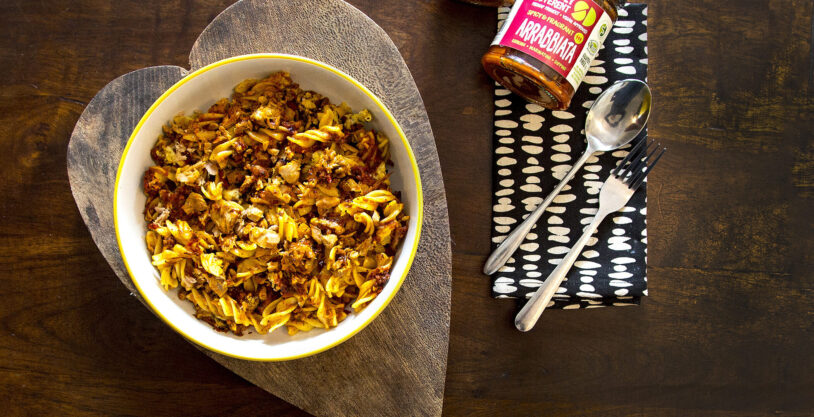 Nutrition per serve
Kcal:
740
Fat:
37g
Saturates:
12g
Protein:
40g
Carbs:
61g
Sugars:
6g
Fibre:
3g
Salt:
3g
Iron:
4mg
Calcium:
323mg
Prep time: 10 mins Cook time: 40 mins Total time: 50 mins.
INGREDIENTS, (SERVES 2)
1 Jar/260g Slightly Different Tomato & Basil sauce, (Arrabbiata for a spicy Tuna pasta)
145g Gluten free Low FODMAP pasta pieces
190g Tuna in oil, (drained)
80g Grated cheddar cheese
1/2 Tbsp Garlic infused oil.
Salt & cracked black pepper to garnish.
METHOD
Pre heat the oven to 200oC/gas mark 6.
Bring a saucepan of water to the boil, add pasta and the infused oil, (the oil helps the pasta to not stick). See cooking time instructions on packet.
Once cooked drain the pasta and mix in the tuna.
Transfer to an over proof dish and pour SDF sauce evenly over the top.
Sprinkle the grated cheese evenly over the top and garnish with salt and cracked black pepper.
Cook for 30 minutes until crisp and golden.
This recipe has been reviewed and approved by Everyday Nutrition Founder and Accredited Practising Dietitian, Joanna Baker.