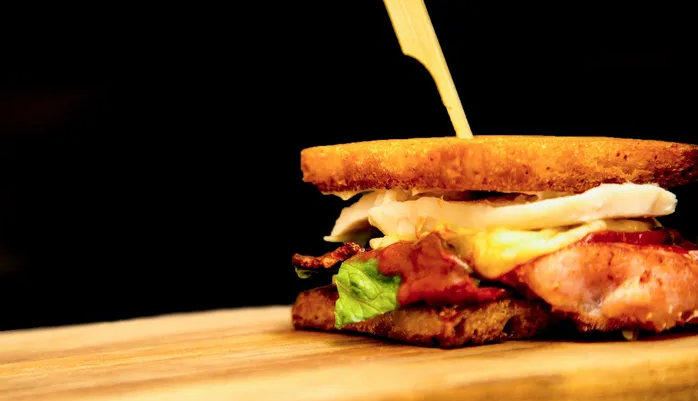 Prep time: 10 mins Cook time: 5-10 mins Total time: 20 mins
Serves 1
Ingredients
2 Slices Low FODMAP, Gluten Free or Sourdough bread, (40g with crusts cut off)
45g Sliced cooked chicken.
20g Bacon, (approx. 2 bacon roundels)
20g Grated mature cheddar cheese.
15g Mayonnaise
10-20g SDF Hunters BBQ sauce
1 Tbsp Garlic infused oil.
10g Lettuce, (approx. 7 leaves)
Method
Weigh and chop ingredients.
Cut edges off the bread.
Using a tbsp of infused oil, fry the bread until both sides are crisp and golden. Once cooked leave to one side to cool.
Fry the bacon in the infused oil until browned. Once cooked leave to one side to cool
Spread the mayonnaise evenly on the inside of both pieces of toasted bread.
Place the lettuce on the bottom half and add the cooked bacon. (remove the fat from the bacon if preferred).
Pour on SDF Hunters BBQ sauce
MW the grated cheese in a m/w bowl for approx. 10-15 seconds, remove from m/w, stir, and pour over the bacon.
Add the sliced chicken.
Place lid on top and enjoy!
This recipe has been reviewed and approved by Everyday Nutrition Founder and Accredited Practising Dietitian, Joanna Baker.